Volunteers get stuck in
July 12th, 2021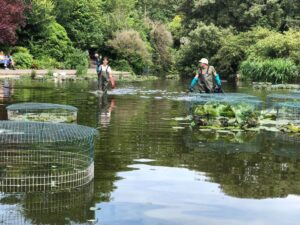 The first official volunteer day, since COVID lockdown restrictions were eased, took place at the pond on Sunday, 11th July.
Nearly  a dozen volunteers, under the supervision of Park Ranger, focussed their attention of securing the cages in the pond, clearing rubbish from it and litter picking elsewhere in the park.
The Council has issued guidance that volunteer groups of up to 30 people are now allowed, provided that they are supervised by a trained volunteer leader. The Council is organising leadership courses but, with limited places available on them, anyone interested in joining them should click HERE.
The next volunteer opportunities take place on Sunday, 1st August during Bark in the Park and on Sunday, 8th July when the pond maintenance will feature again.
Our picture shows park volunteers Andrew Browne and Cat Stead who helped clear the pond of rubbish, which included a metal road sign!