Shakespeare In The Park
Shakespeare In The Park is back! Outdoor theatre returns to Queens Park this summer with a performance of The Merchant Of Venice on Saturday 30 June at 6pm.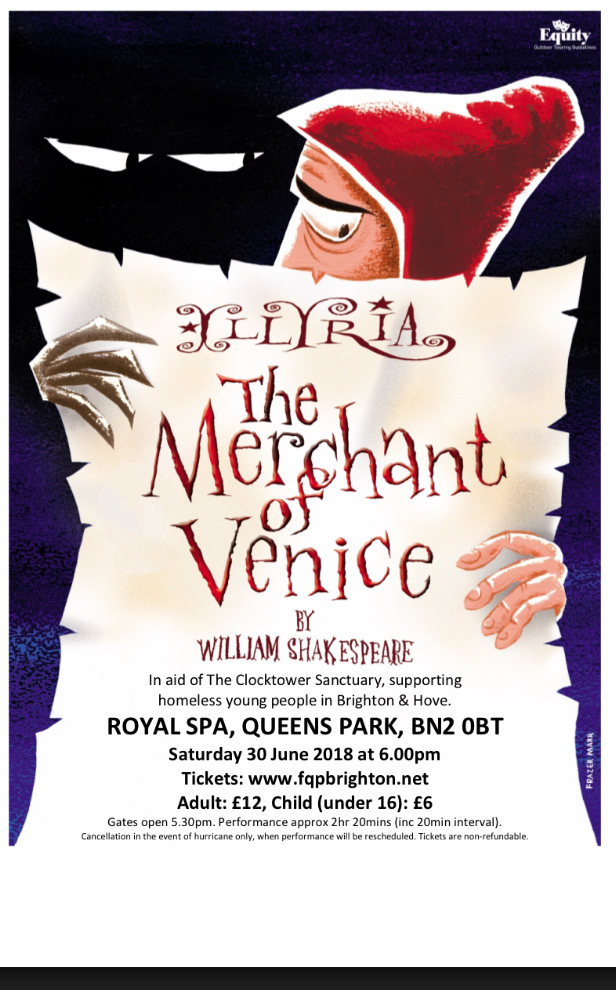 Click here to book tickets
The performance will be hosted by the Royal Spa Nursery with all profits going to the Clock Tower Sanctuary, a local charity that provides information, advice and guidance to homeless young people, aged 16 – 25 years, in Brighton and Hove.
The performance will be by our friends at Illyria, the 'Top Notch Touring Company' (D Telegraph). Find out more about Illyria here.
Enjoy outdoor Shakespeare for all the family in this beautiful location in Queens Park. Bring a picnic and a bottle of wine!
Tickets are £12 (£6 children under 16yrs), plus an online booking fee of £1.52/£1.06. Alternatively, you can buy tickets on the door depending on availability.
The Merchant of Venice is a funny play that deals with serious issues. Wealthy Antonio borrows money from Shylock, and is so confident about paying it back that he enters into a ridiculous agreement: that he will give Shylock a pound of his flesh should he default. Then events conspire against him so that he cannot repay the loan. Bassanio risks everything in the hope of winning the hand of Portia in marriage. Admittedly he succeeds – but when she gives him a ring to keep, and he is compelled to give it away, what future for their domestic bliss? Shakespeare's great courtroom drama is by turns thrilling, funny, romantic and unsettling. International award-winning Illyria promise a production to keep you on the edge of your seat!
"If you prick us, do we not bleed? If you tickle us, do we not laugh? If you poison us, do we not die? And if you wrong us, shall we not revenge?"