other
← Piano Marathon At St Luke's
Queens Park LAT Meeting: Wed 30 November →
Volunteering Dates For September
September 4, 2016
Volunteering In Queens Park. Meet at the pond/cascade area:
Wed 7 Sept 12 noon
Sunday 11 Sept 11am
Wed 21 Sept 12 noon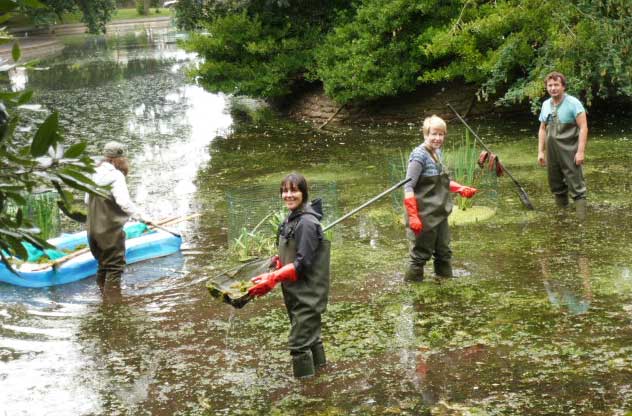 Meet new people. Get close to nature. Forget your worries. Do something different.
"Thanks to everyone's efforts we seem to be now in a brilliant place with our pond being virtually algae and duckweed free," says  FQP's Chris Lowe.
"This has meant we have been able to build on the clearance work last year in the Cascade and start to locate and fill the cracks in the structure which cause it to leak three square meters per day when running. We are using Rockbond specialist cement and bentonite clay. We have also been able to clear some of the vegetation to reveal more of the original structure."
"Wildlife is good too with this years home grown Grey Wagtails feasting on the plentiful supply of insects. We also seem to have more Dragonflies with several flying on most days. Broad Bodied Chasers, Southern Hawkers (and flying now) Emperors and Common Darters. Do let us know if you spot anything we might have missed. Do pop by and say hello even if you do not have time to loin us in waders!"
Equipment provided. You can just show up, but Chris would appreciate advance notice if possible. Chris Lowe mob 07761 674827
This entry was posted in
Uncategorized
. Bookmark the
permalink
.
← Piano Marathon At St Luke's
Queens Park LAT Meeting: Wed 30 November →