other
← Pond Maintenance: Latest News
Revival Of The Cascade →
Bark In The Park: Sun 12 June
May 28, 2016
Summer is on its way! That means plans for Bark in the Park, the Queens Park Dog Show, are underway, ready for the big event on Sunday 12 June.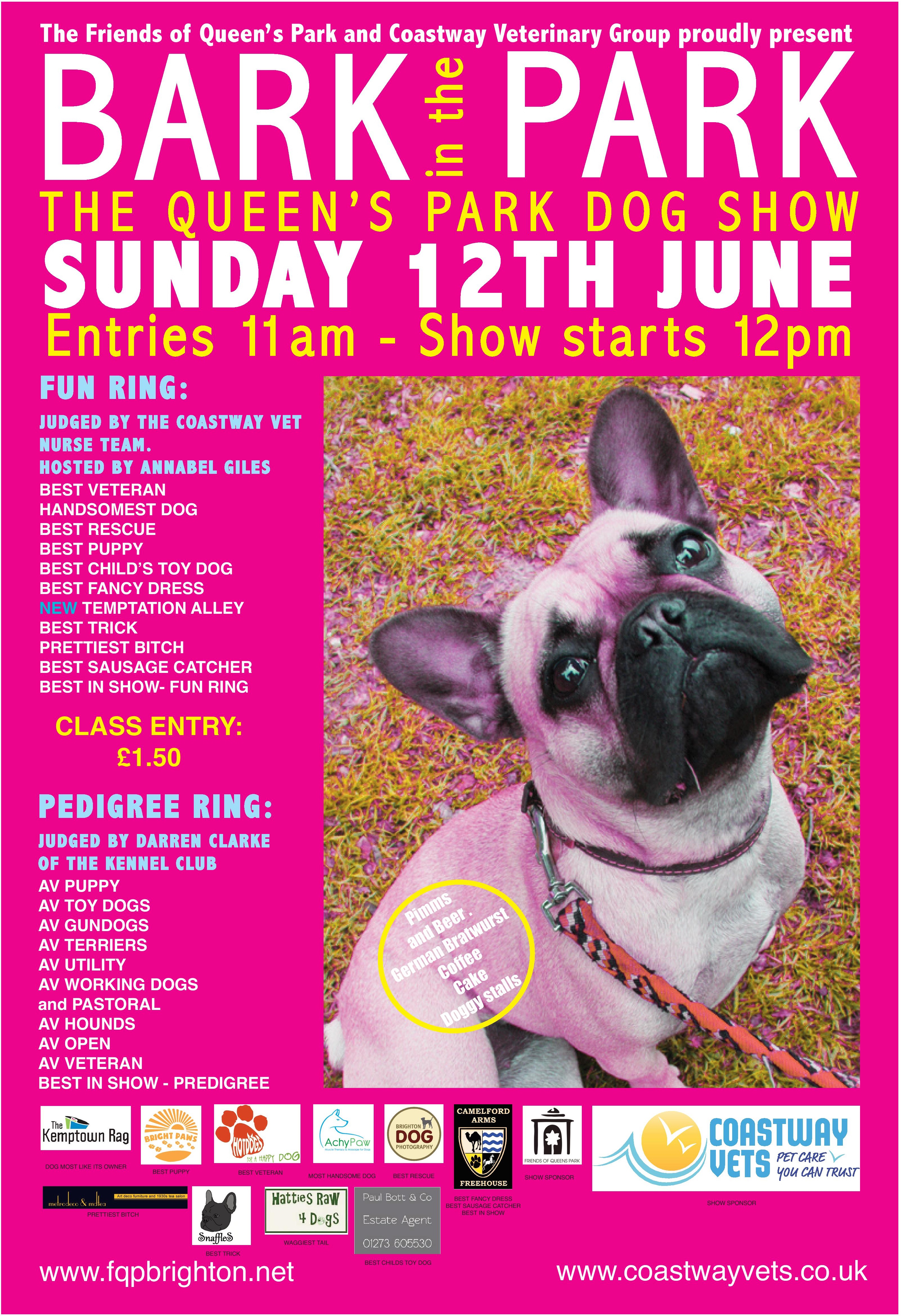 The registration tent opens for entries at 11am the show starts at noon. Now well established, there will two show rings: The Fun Ring and the Pedigree Ring.
We are delighted that Coastway Vets will be once again be helping us present Bark In The Park, bringing all their expertise from also running the Pride Dog Show for many years. Classes with be the same as last year, with the behemoth Best Sausage Catcher taking pride of place alongside favourites such as Best Fancy Dress, Dog Most Like its Owner and Best Trick. We have one new addition this year: Temptation Alley. Will your hound be able to resist the irresistible? Pedigree classes follow the Kennel Club format and caters for those with illustrious lineage. The dogs, that is.
But that's not all . . . . . by popular request, the Pimms /Beer tent returns, run by our friends at the Camelford Arms, along with many other stalls selling all manner of Doggie goods and treats and services. Not to mention coffee/tea and and tasty food to keep the owners happy, fed and watered.
Year on year, the Bark has proved a wonderfully happy family event, with rave reviews from the public and our very own Argus newspaper – "A Pawsome Event!"
Fun Ring classes
Best veteran
Most Handsome Dog
Best Puppy
Best Child's Toy Dog
Best fancy Dress
Waggiest tail
Temptation Alley [what's this? see below!]
Best Trick
Prettiest Bitch
Best Sausage Catcher
Best in Show (Fun Ring)
Pedigree Ring
(AV- stands for 'Any variety'. It's a Kennel Club thing)
AV Puppy
AV Toy
AV Gundog
AV Terrier
AV Utility
AV Working and Pastoral
AV Hound
AV Open
AV Veteran
Best in Show (Pedigree)
Thank you to our brilliant sponsors:
Know a dog with a waggy tail? Prize sponsored by Hattiesraw4dogs ow.ly/B4eU300Szce
ow.ly/zOga300Szer
Best puppy prize kindly sponsored by Bright Paws
ow.ly/idDf300PObj
ow.ly/yxHw300POds
Most handsome dog? (class sponsored by @achypaw)
ow.ly/fRaV300PMet
Temptation Alley at Bark in the Park. Prize by @KemptownRag
ow.ly/nBdF300Q4yd
Thanks to @coastwayvets for support of Bark in the Park on 12 June.
ow.ly/PoR4300PLFg
Thanks to event sponsors Paul Bott Estate Agents
ow.ly/y3W5300PL57
Kindly sponsored by #Brighton dog photography
ow.ly/Ei863011pDh
Bring your puppy to Bark in the Park. Prize sponsored by Bright Paws
ow.ly/idDf300PObj
Know any good tricks? Prize sponsored by @SnafflesCuisine)
ow.ly/fRaV300PMet
Bark in the Park 12 June – a great day out. Bar provided by The Camelford Arms
ow.ly/TKsn300PNeD
Coastway have been sponsoring Bark for a number of years now. They bring with them their wonderful team who manage the entries and also the Pedigree Ring which adds a touch of sophistication the proceedings.
At the heart of the Kemp Town community for more than 40 years Coastway continue to offer expert care at affordable prices. Their Freshfield premises have just been extended to offer additional services and therapies: a hydrotherapy suite, laser treatment room, exotics hospital and larger cattery facilities. 'Being involved with Bark and helping raise funds to protect Queens Park for local residents is a privilege and a pleasure and the Coastway team look forward to another successful event this year'. Find out all about the exciting developments at the Kemptown branch  as well as the extensive range of services they provide for creatures great and small here.
Paul Bott and Co joined the Bark family last year and sponsor Best Child's Toy Dog which saw a record number of entries.
A family run business in the heart of Kemptown, they offer a very personally and very friendly service, whether buying or selling. Paul, being Kemptown born and bred is an absolute mine of information about the local area. Pop in and say hello. It's worth it for their sofa alone!
They also happen to be a bit nuts about dogs. In the best possible way of course.
The Paul Bott and Co website is currently having a make-over and will be online very soon. In the meantime, checkout their Facebook page for the latest news and see them on the sofa chatting to Latest TV (from 2014 just after setting up).
Temptation Alley:
This entry was posted in
Uncategorized
. Bookmark the
permalink
.
← Pond Maintenance: Latest News
Revival Of The Cascade →