other
← Picnic In The Park 2105: Thank You
Wild Garden Spring Tidy Up: Sun 10 May, 11am →
Great Brighton Bake Off: Sun 28 June
May 6, 2015
The Great Brighton Bake Off, our favourite self-raising baking competition, will take place on Sunday 28 June 2015 as part of the annual Picnic In The Park event.
Nicky Bullock and her team of helpers will be on hand to manage this increasingly popular – and competitive – bake off.

"We are delighted to announce that Jo Cole and Clement Jacquino from Real Patisserie, Kemp Town, will be once again judging our Great Brighton Bake Off Competition," says Nicky. "It wasn't easy for them last year, as all the entries – from the youngest, to the winner of the Adult competition – were consistently delicious and imaginative."
This year the competition will be refined to include three separate competition categories for Adults, Teens (12-17 years old) and Under 12s. Prizes will be given for first place and runner up in each category.
"Let's see if we can beat the number of entrants for last year, which was a fantastic fifty!"
Following the announcement of the winners, members of the public are invited to form an orderly queue at the Bake Off Tent for a chance to sample some of the winning entries.
Great Brighton Bake Off Schedule, 28 June 2015:
1pm: deadline for entries to be delivered to the Bake Off tent in Queens Park. £1.50 per entry. Please pay at the Bake Off tent.
1.30pm: judging starts
3.30pm: results announced on the main stage at Picnic In The Park
4pm: Cakes go on sale for public consumption, available from the Bake Off tent.
Applicants:
All contestants are requested to apply in advance via info@fqpbrighton.net, putting 'GBBO' in the subject line. Please supply name, age and ingredients.
Follow the Friends Of Queen's Park on Facebook & Twitter for all the latest updates. Join the FQP mailing list here.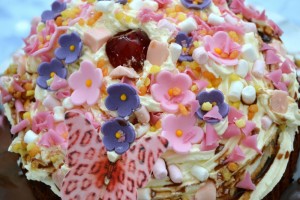 This entry was posted in
Uncategorized
. Bookmark the
permalink
.
← Picnic In The Park 2105: Thank You
Wild Garden Spring Tidy Up: Sun 10 May, 11am →