other
← 2015 Annual General Meeting: Tuesday 20 October
Pond Update May 2015 →
Nettle Knickers Puppet Show: Sun 17 May
May 5, 2015
The Nettle Knickers Puppet Show, a Brighton Fringe event, is coming to Queen's Park on Sunday 17 May.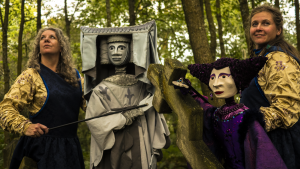 This extraordinary and original show, staged at the Royal Spa, is an interactive puppet theatre performance based on plant characters. It was conceived and created by Julia Behrens, a long term friend of Queen's Park. Julia successfully applied for funding to create the herb beds in the Wild Garden, and she continues to maintain and promote their wellbeing for all park users. As you can see from this video, Julia has boundless knowledge and enthusiasm for all thing herbal.
Julia created the Nettle Knickers show with performer Kay Beech, artist Dean Blunkell and animator Tim Sanpher. Using folk law, fairy tales, myths and combining them with real active ingredients in the form of well-known medicinal plants the Nettle Knickers brings to life a collection of herbal puppets to personify the charismatic appeal of the plant kingdom.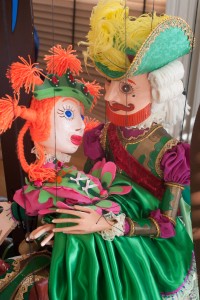 Apart from being great theatre, the project's aims are to inspire, educate and help children and young people to understand the uses and benefits, of plants and encourage them to protect our natural world – inside and out of our bodies. "We want them to see plants as an important and useful part of our natural heritage," says Julia.
"To date, we have performed at local schools across Brighton and Lewes and at Heritage sites including Ann of Cleves House, Michelham Priory, Lewes Priory and Berling Gap. The school's audiences also participated in educational workshops designed to support and complement the puppet show.
"We're very excited that the Heritage Lottery Fund has given us this support and the opportunity to bring our natural heritage to life. Come and join in the adventures of cranky Hildegaard Von Nettles, and the hypnotisingly beautiful Belladonna! Discover the healing power of Marigold, and find out why Lord Dandelion has a pressing urge!"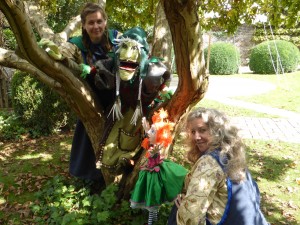 Where: Royal Spa, Queen's Park, Brighton, BN2 0BT
When: Sunday 17 May, 15:00
Tickets: £6 adults, £4 kids, £20 Family Ticket. See Brighton Fringe website for details.
Follow the Friends Of Queen's Park on Facebook & Twitter for all the latest updates
https://www.facebook.com/FriendsOfQueensParkBrighton
https://twitter.com/FndsQueensPkBtn
This entry was posted in
Uncategorized
and tagged
Brighton Fringe
,
Julia Behrens
,
Nettle Knickers
,
Royal Spa
. Bookmark the
permalink
.
← 2015 Annual General Meeting: Tuesday 20 October
Pond Update May 2015 →