Volunteers: We Need You
July 8th, 2015
Can you lend us a hand? You can see a list of volunteer activities below, or download the Full Volunteer Schedule here. 
"It's the camaraderie of the community events that I love the most," says Johnny Webb, chair of The Friends Of Queen's Park. "Putting something back into your local area, meeting new people and having a laugh at the same time – you can't beat it!"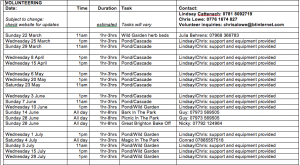 Advance Registration: volunteers are asked to inform the event contact at least 48 hours in advance if they wish to attend a session. Volunteers are most welcome to just show up for a scheduled event, on the understanding they cannot be guaranteed equipment to take part.
Contacts: Lindsay Cattenach: 0781 8092719; Chris Lowe: 0776 1674 827; volunteer inquiries: chrisalowe@btinternet.com.
Whatever you can offer, whatever your age or experience, please get in touch with us via this website or Facebook or Twitter or info@friendsofqueensparkbrighton.net. Thank you!