Shakespeare In The Park 2014
April 23rd, 2014
Shakespeare In The Park returns this summer with Illyria's production of Macbeth, 'a blood-soaked tragedy of vaulting ambition'. The performance will take place at the Royal Spa on Sunday 6th July.
Tickets available via the Brighton Ticket Office, telephone: 01273 709 709.  *** The Brighton Ticket Office will close at 1pm Saturday 5th July *** Thereafter, you can by tickets on the door, subject to availability. Doors Open 6.30pm, Performance 7.30pm, at Royal Spa, Queen's Park, BN2 0BT. Tickets: £12.50, £6.50 children (under 16).
Outdoor performance. Please bring your own seating/rug, warm clothes and picnic. Cancellation in the event of hurricane only when performance will be rescheduled. Tickets are non-refundable.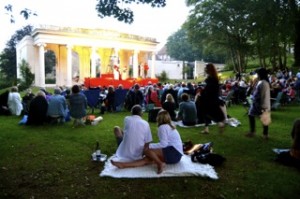 This performance does not clash with World Cup Brazil 2014 matches (we checked).